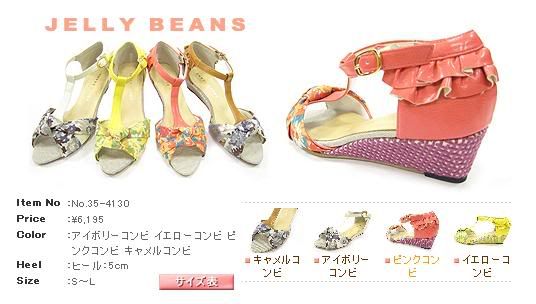 A Japanese brand, Jelly Beans, provides depth assortment of shoes with good quality and detailed in different styles --- cute, elegant, trendy and so on.
They are not only popular in Japan, but also in Hong Kong.
Jelly Beans shoes are officially sold in HK Sogo department stores with higher price ( around $ 600 or above ), but they can also be found with lower price ( around $400 or above ) easily in the small boutiques selling Japanese style clothings.
Today, I have bought the pink one ( shown in the photo =] ) with $450 in Shatin small boutique under my friend's advice.
From the official website, it costs 6,195 yen. ( 6195 X 0.078 = $ 483.21 )
I also find it selling $ 699 in Sheung Shui boutique.
Um... I think I am so lucky~ haha
However, I visit some Forums and discover that loyal customers may just spend $399 for one pair of shoes, such as in Kala Place in Mongkok, Tsuen Fung Centre in Tsuen Wan.
For this case, it does show the importance of comparing the prices before purchasing !!!!!
If you want to get a new pair of shoes in this season, you can visit the following website. =]
http://www.jelly-beans.co.jp/index.html